It can be all too easy to forget all of the ways that God works in your life and the lives of your family throughout the year. Days and then weeks and then months go by and that amazing answered prayer or incredible just-in-time blessing is all-but-forgotten by the end of the year. So that when you sit back to reflect on all that God has done in your family's life, you can draw a blank.
But the truth is that every day God blesses you. And developing an attitude of gratitude in the coming year can be made a little easier by creating a habit to regularly reflect on the blessings, answered prayers, and simply good memories that you've had as a family.
Putting together and maintaining a yearly blessing jar can be just the thing you and your family needs to do that! And here's how to make a blessings jar for your family to use in the New Year.
Also be sure to grab our Count Your Blessings Gratitude Jar printable kit for beautiful labels, stickers, cards, gratitude log, and more! It's the perfect thing to help you get started on your gratitude jar!
[sc name="clearfix"]
Supplies Needed:
Before we get to the blessings jar instructions, let's have a look at the supplies you'll need. Most of these things are probably things you can gather around your house. But, if you'd like to get even more creative or buy something special for this, that's fine too!
Here are the supplies you'll need (see the visual supplies list below for some specific options):
Here are some different options for supplies you can use for this project. Just click through any of them below to learn more.

How to Make a Blessings Jar:
First grab your supplies. You probably have most of this on hand. However, feel free to get as creative as you'd like with it! Involve the kids in putting your blessing jar together to make it even more fun too.
When choosing a jar, make sure you choose something that is large enough. But what kind of jar you pick is completely up to you! You can go cheap and just use an empty mayonnaise jar or something similar. Or if you have a large empty canning jar, that would work great too. There are also specific blessing jars that can be really fun as well. Like these: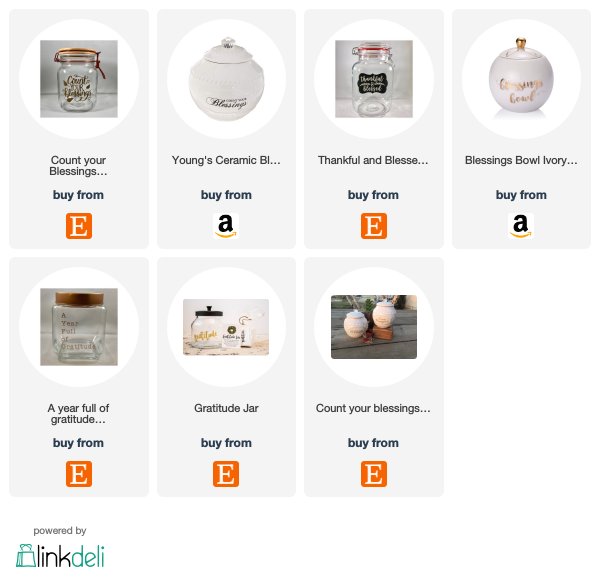 For the paper, you can choose whatever paper you'd like, or even use sticky notes. I chose to use a colorful patterned scrapbook paper because I just thought it'd be fun. The back is just white so it'll be easy to write our blessings there and then fold it with the pretty patterned part on the outside. You can also use printable patterned paper like the paper included in our Count Your Blessings Gratitude Jar printable kit here.
And then for decorations you can be as creative or simple as you'd like. There are pre-made blessing jars like the ones I linked to above that can do all the decorating for you. Or you can use things like stickers, labels, tags, and ribbons, and more to personalize it. I have some really beautiful labels and stickers included in our Count Your Blessings Gratitude Jar printable kit here too. It would be fun to have your kids help with the decorating too.
Next you'll want to cut your paper into squares. They don't have to be perfect. I just stacked all of the papers I wanted to use and cut them into strips and then squares (see photos above). But if you want them to be precise, then that's fine too. Just pick up one of these handy paper cutters to make your squares more precise.
Next decorate your jar (if needed). I didn't do anything too fancy here. I just used ribbon and some faith stickers that I thought were cute. But you can decorate your jar to match your decor or whatever you'd like. There are all kinds of options for stickers, labels, tags, ribbons and other things that you can use to decorate it all pretty.
Again, invite your kids to join in to decorate the jar to make it a fun family project. As you're working on decorating it tell them what you plan to do with it in the New Year. It might even be a good opportunity to talk about some of the blessings, answered prayers, and fun memories that you would've added to it this year if you had started earlier.
Blessings Jar Instructions for Year-Round Use:
Now that you have your blessings jar made, it's time to use it! And it's really simple. Here's all you have to do:
Find a blessings/answered prayers/gratitude jar to use. Decorate if desired.
Cut squares of paper to write each blessing on.
Place your jar and stack of paper in a good place where you'll remember to use it.
At the end of each week write down and add one blessing, answered prayer, thing you're grateful for, or good thing that happened that week to the jar.
On New Year's Eve open the jar and read your year's worth of blessings as a family.
If you want to keep your blessings, why not create a scrapbook for previous year's blessing cards!
Ring in the New Year full of gratitude
You can have a year filled with gratitude and thankfulness! But it all starts with making a conscious choice to be grateful for the things God has blessed you and your family with. And this year-round blessings jar is here to help!
And by the way, if you're not able to start this at the beginning of the year — no problem! Any time is a good time to start a gratitude jar.
May God bless you and your family with a year of blessings, happy memories, and answered prayers!
Interested in Raising Kids God's Way? Then You'll Love My Free Guidebook!
My 17 Ways to Raise Godly Kids guidebook goes through a list of 17 different actionable steps you can take as a Christian Parent to train your children up in the ways of the Lord.