A while ago I attended an online homeschooling conference. And one of the speakers said something that really resonated with me: "you can't share what you don't have". In context, she was discussing how as Christian moms who homeschool, we can't teach our kids about having a relationship with Christ if we don't have one.
It makes complete sense, but how many of us do this? We get so busy as moms and get so caught up in what we're doing for our family and our children that we forget about the relationship we need to be having with God.
Kids can tell when you're faking it
Let me tell you something. Kids can tell when you're putting on a show. They are so intuitive. As an example, if you're trying to teach your child to pray and they never see you praying, it can cause them to resent praying. It can even result in them just going through the motions without ever really finding a heart and passion for God that I'm sure you want them to have.
But…if they see a passion for God in your every day actions then it will have a great impact on them. They will see how this whole relationship with God plays out in everyday life. In the choices you make, the actions you do, the attitude you have, etc.
Are you trying to share something with them that you just don't have or haven't had in a while?
When my second child was born I started finding myself struggling with this, and still do. As you know if you're a mom, having a child uproots all your routines and plans and…well, everything! So when she was born my morning routine of spending time with God went out the window. In turn I found other things falling by the wayside like my prayer life, and my attitude, and more.
She's finally getting into a good nap and sleep routine so it's starting to get easier to find the time. However, now that I'm in this spiritual rut, I find myself dragging my feet. Do you ever find yourself there too? All the obstacles have been removed and now YOU are getting in the way.
There's a few things that I've sort of set in my heart to begin doing that I think are going to help me to re-kindle that fire and I'd like to share them with you in case you find yourself in a similar situation. I hope you find some hope, encouragement, and ideas here that can help you in your walk as well.
Repent and turn from sin
As humans in our fallen state we are prone to sin. It takes discipline and the strength of God to turn from our sin. The sin in our lives can easily pile up and can weigh us down, especially after a time of drifting from God. The weight of this sin can even hinder our prayer life and make our prayers less effective.
"But your iniquities have separated between you and your God, and your sins have hid his face from you, that he will not hear." – Isaiah 59:2
So before trying anything else, take some quiet time with God. Repent of those sins that you do know you've done and ask Him to reveal any other areas of sin that have gradually seeped into your life.
"If we confess our sins, he is faithful and just to forgive us our sins, and to cleanse us from all unrighteousness." – 1 John 1:9
Find alone time with God every day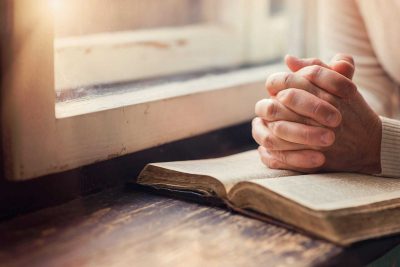 We all only have so many hours in the day and we have the freedom to decide how to spend those hours. As moms, we have a little less freedom in that arena. However, there are pockets of potential quiet time in the morning, during naps, and after bedtime.
While there are about a million other things you could be doing or maybe even NEED to be doing, your relationship with God should be on the very tippity top of that list. Because with man, this is all impossible, but with God, anything is possible!
"But Jesus beheld them, and said unto them, With men this is impossible; but with God all things are possible." – Matthew 19:26
So take what time you can have. Even if it's only 5 minutes to start, it's better than none. And God can meet you where you're at in this season of your life. If you can find more time down the road then snatch it up. Because the more time you can spend alone, still and quiet with God, the better.
"Be still, and know that I am God: I will be exalted among the heathen, I will be exalted in the earth." – Psalm 46:10
Spend time worshiping God every day
There are so many ways to worship God. It doesn't have to be singing. We can worship God in our actions and our words and with our talents. However it looks for you, spending time to humbly worship your Creator is such a wonderful way to draw close to Him again.
"But the hour cometh, and now is, when the true worshippers shall worship the Father in spirit and in truth: for the Father seeketh such to worship him. God is a Spirit: and they that worship him must worship him in spirit and in truth." – John 4:23-24
I love worship music. However, a new way I'm going to try to worship is through Bible art journaling. I love the idea of meditating on a scripture while worshiping God with artwork inspired by that piece of scripture. It's so beautiful! I'll be honest, I'm a little bit hesitant to write in my Bible. But I just ordered a brand new journaling Bible for this purpose and I'm excited to give it a try.
How can you spend time worshiping God? Think about this and really work on finding time to worship God every day.
Find what get's you on Fire for God…and DO IT
We all have been gifted with special callings and gifts to use for God's Kingdom. Sometimes we aren't even aware that that's what our gifts are for. But, there are some things that just really get you on fire for God. For some it's preaching, for others it's singing, or art or helping those in need.
"Not slothful in business; fervent in spirit; serving the Lord;" – Romans 12:11
Whatever it may be, examine yourself and find that one thing that will get you on fire for God and DO IT. Do it every day if possible.
You won't regret it because it will bring you closer to God and even make you a happier mom.
When I started asking myself this question it quickly became clear that, for me, it's writing. Whether it's writing a blog post or an email to someone, writing about God get's me so excited about Him.
So pin down what your firestarter is and do it with all your heart. Don't let the enemy hold you back from that. It's a gift from God. Use it for Him, to worship Him, to serve Him, and to serve the Body of Christ.
"Wherefore I put thee in remembrance that thou stir up the gift of God, which is in thee by the putting on of my hands." – 2 Timothy 1:6
Nurturing your relationship with God isn't optional
You're a mama. You're a wife. You're a woman. Whatever other role you have in this life…you are first and foremost a daughter of the King. And Our Lord and Savior should reign first.
"But seek ye first the kingdom of God, and his righteousness; and all these things shall be added unto you." – Matthew 6:33
If you want to train your children up in the way they should go, secure you own mask first (so to speak). Work on your own relationship with God, and out will flow the abundance of Spirit that you can, in turn, share with your children.
Alone time with God is one of the 12 essential things you need to be a Good Christian Mom. Want to know what the others are?
Download your free 12 Things You Need to be a Good Christian Parent Checklist by filling out the form below. Find out what essential things you need as a Christian mom in order to train your children up in the ways of the Lord.